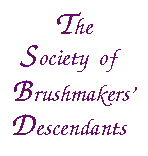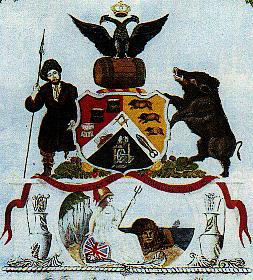 ---
SBD News
---

As the New Year of 2017 begins, the SBD is still attracting new members. Our 2017 offer of two very rare books or one rare book for all new members is an unbeatable opportunity. The video of "The History of the Brushmakers Society" and the "1851 List of Journeyman Brushmakers" are now available as free downloads from our private Members' site. Please note the email address for the Society has been changed due to lack of support from TalkTalk, so if you have mailed within the past month or so with no reply please retry at sbdfhs@yahoo.co.uk
Recent SBD work includes research for a PhD at Cambridge University and for all our members. We were also contacted by various TV Production companies for advice regarding some 2016 historical TV programmes, including "The Victorian Slum".
New Interests include HASSELL, ASTON, ADKINS, POTTER
SBD Founder Ken Doughty will be on the Experts Table at the Society of Genealogists Who Do You Think You Are Show February 26th 2010
New Interest Names - Clark, Hall, Turner, Debney, Fairey, Arney, Halladay, Robey, Fulcher Brown, Baker, Willson, Rooke, Tyrell, Warner, Baines, Noble, Swainsbury.
More brushmaking Ephemera Purchased
New Parish Record Searches available to members. Recently purchased rare 18th and 19th Century Trade Directories
November 2009 - Founder Ken Doughty gives talk at Society of Genealogists.
Membership continues to grow!
TITTERTON, HOWARD, CONNOR, BROAD, CULLY, BAKER, BROMFIELD,
Another TONG researcher, FULCHER BROWN, NICHOLLS, LATCHFORD, LEWIS, LLOYD, DOWNING, RANT. WILKINSON.
Chesham brushmakers. Zora Sweet Pinney visits the UK.
Members researching McINTOSH, BOXALL, SNELLING, CULMER, HATTON, WALTON,
SEWELL-WRIGHT, JOHNSON, GILLESPIE, SLAYTOR, HALL, BOND, GIBBONS, WALKER, SMART
Posts on Walker, Gibbons,Culmer, the Bass Factory, Wm. HOWARD and more.
New members researching REED, ROSSITER, TONG
More on Charles Jeffries - famous concertina maker, lovely picture of a brush hawker's wagon, map of the Tramp Route, more indexes. Loads of information and enquiries.
Rooneys Brushes have new premises and I shall be visiting and writing an article on their new factory.
The Bulletin Board site is going from strength to strength! We now have well over 100 members using the Board, including many old members and lots of new members.
THE SPECIAL OFFERS FOR EXISTING MEMBERS ARE STILL AVAILABLE!
NEW SERVICE!! Free Census and BMD searches for SBD Members!!!!
1841, 51, 61, 71, 81, 91 and 1901 UK census extracts.
Free search of UK BMD records for certificate reference numbers!
Search of Marriages for possible partner's name!
There are lots of items on the new site:
More material on contemporary besom makers,
New members researching GUTHRIE, COVE, MANN and HODGSON
Welcome to existing member Jean Ball!
Members Joan Vinall and Michelle McVean are close to completing the Index to the thousands of brushmakers contained in the SBD Journals, and these are available for download at the private members' site.
Lots of new posts including strays and members' interests.
Several unseen items relating to the Infamous Henry Wainwright Whitechapel Murder, including Newspaper reports and posts from members descended from the Wainwrights and Stokes, the man who found the body!
William Wainwright's suicide.
Artists Paintbrush making. Pics from John Hill's Anglia TV item.
The Book of Trades - entry on brushmakers c1810
Members old and new have posted details of their interests.
Janet Heskins has revealed an amazing source for research.
World renowned authority on the history of Artists brushes and Art techniques, Zora Sweet Pinney has joined and we have posted one of her articles on Rowney brushes.
John Hill from the old firm of Hill's is another frequent poster.
A descendant of the Kiddier family, Roger KIDDIER is also to be found there.
Janet Gyford, historian and author of books on Witham is interested in any information to do with this little Essex town, the first stop on a London brushmaker's Tramp.
Janet Sudan's piece on Clift brushmakers,
A piece on GRIFFIN of Kent Street.
The second part of the reprint of 'Modern Brushmaking', the 1901 article on S D Page of Wymondham with lots of pictures of the techniques and processes used at the time (and possibly some photos of your ancestors!).
Items members may download include:
A very detailed Index to the first three Journals.
Indexes to names mentioned in other Journals
A 2200+ name Index of all surnames shown in the 1829, 1851 and 1865 Lists of Journeyman Brushmakers
An Index of all full names shown in the 1851 and 1865 Lists
A List of Tramps Relieved in London 1816 and lots of pictures.
An item on "Brushmakers Society 1839 Stockholders" by myself, with a copy of a full list of the names and locations of these men.


NB All information obtained from these sites is for PERSONAL Use/Research only. Publication or use for profit without prior agreement is expressly forbidden.
CONTACT THE SBD NOW!
Page last updated December 2016
---
page
created by SBD © on behalf of the Society of

Brushmakers

' Descendants